It's just 15 days before I leave for my six week tour of Europe. Suddenly I'm realising how little I know about the place and desperately hoping I can cram in some history before I leave. At first I was horrified knowing I'll be visiting places I don't know every inch about, but that's the beauty of travel, there's always more to know and more places to be explored!
I have conceded defeat and brilliantly decided to watch films based in the continent instead. You'll find some of my favourites, which I think are a good introduction to "Europe 101" below, as well as some tacky embarrassing additions. I'll be watching some of these for the first time, but others I've always watched to exhaustion.
You'll immediately notice most of these films are about love and I certainly hope the cities I visit are as romantic as the cinemas have always promised. Even if I'll be engaging in a more of a romance with the culinary and scenic side of things.
Although I'm yet to visit Europe myself and can't compare these depictions to the real thing - I certainly know how fond they've made me grow of the place.
When I get to Spain - it's Sangria, tapas, more Sangra and tapas again in that order.
Vicky Cristina Barcelona.
Juan Antonio: I'll show you around the city, and we'll eat well. We'll drink good wine. We'll make love.
Vicky: Yeah, who exactly is going to make love?
Juan Antonio: Hopefully, the three of us.
Starring a suave Javier Bardem (one of the world's best Spanish actors, husband to Penelope Cruz and most recently in
Skyfall
), Scarlett Johansson (international girl crush and apparently Woody Allen's muse) and Penelope Cruz herself, this movie tells the story of American tourists who fall in love with the same man. Although you might not have your own steamy Catalan romance with a middle-aged man on your trip, it captures some beautiful scenery (both man-made and natural) and it's a good introduction to the culture.
Biutiful.
This movie captures a dirtier, darker side of Barcelona and I wouldn't recommend if you're easily distracted - but it's a genuinely thought-provoking movie.
Other Notables:
If you'd like to delve a little deeper in Spanish film,
Pan's Labyrinth
is a good place to start (granted it's a fantasy movie set in wartime Spain) and sensual
Diario de una Ninfómana
is a favourite of mine too. Granted they're not exactly tour guides to the city and one might leave you scared of the dark and the other sex-obsessed, they're still a good watch.
One of Amelie's favourite things is cracking into a Crème Brûlée with spoon (if you haven't already done this in life - abandon what you are doing right now).
Amelie.
It's quirky, witty and it will make you fall in love. It stars Audrey Tatou before she became known to Western audiences in the Da Vinci Code. If you struggle to concentrate with subtitles, this film moves fast enough to keep you on your toes or Tatou's beauty might be enough to glue your eyes to the screen.
Midnight in Paris.
After being romanced by
Vicky Cristina Barcelona
, I couldn't resist continuing my forage into new-age Woody Allen.
Midnight in Paris
not only makes Owen Wilson bearable, but it's a charming movie about love and self-discovery in the world's most iconic city. The enviable Carla Bruni also makes a cameo.
Other Notables:
In
Sabrina,
Audrey Hepburn leaves her home town an ugly duckling, goes to a culinary school in Paris and returns a swan. Humphrey Bogart, her older lover, was infamously hostile towards Audrey Hepburn during filming. The stand out line: "Paris is always a good idea". I'm about to find out for myself how true that remark really is.
Another French favourite of mine is
The City of Lost Children
(
La Cité des enfants perdus
). It's set in a dystopian fantasy world, but given that it's a creative collab between multiple European nations, maybe you'll enter Europe an expert on its cinema.
Some popular Western movies that must satiate your Parisian palate or inner-Francophile are
Julie & Julia
,
Chocolat
and
Marie Anotinette
(2006).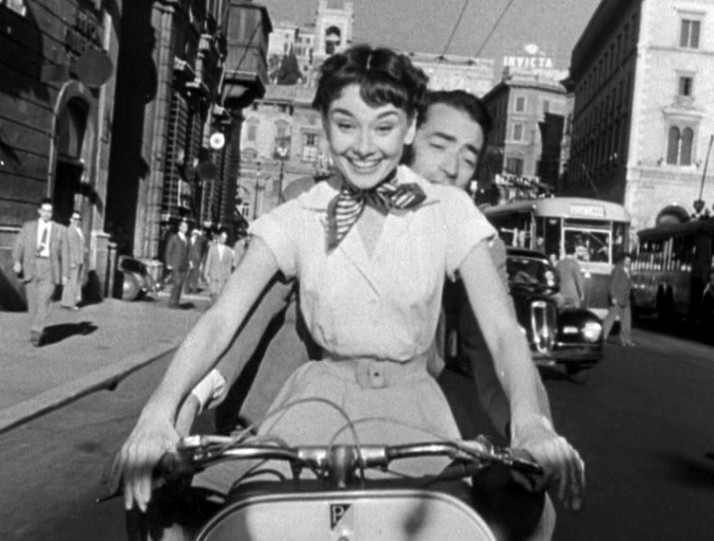 I don't think my travel insurance includes this activity - but it's definitely on my bucket list.
Roman Holiday.
This classic features two of my favourite original Hollywood stars the handsome Gregory Peck and the inspiring Audrey Hepburn. Embrace the poor green screen filming for what is is and take in the scenery and on-screen charisma between the awfully good-looking leading duo.
Romeo & Juliet.
If you're heading out to Verona in Italy to exclaim, "Oh Romeo," next to Juliet's balcony perhaps re-watching one of the many interpretations is a good idea. For the classic, watch Roman Polanski's version, or if you're wanting something a little edgier, Baz Luhrman's blockbuster take might hit the spot for you. Neither of those do the trick? I can shamefully admit to having watching the animated
Gnomeo + Juliet
and I wasn't even babysitting.
Under the Tuscan Sun
If at this point you're exclaiming, "Get those old movies away from me", I'd suggest you watch this one. I watched it when I was a little younger and it made me want to retire in Tuscany, especially if the people, food and landscapes really are that appetising.
Other Notables:
Sabrina Goes to Rome
for some daggy 90's nostalgia.
Letters to Juliet
is a great guilty pleasure and indeed set in Italy, but its bad accents and clichés are a little yawn-inducing.
What I'm planning to watch:
I've always loved Katherine Hepburn as a strong, leading lady and I hear
Summertime
, set in the floating city of Venice, is worth watching.
I'm 15 all over again.
Sisterhood of the Travelling Pants 1 & 2.
Oh how I wish I had a more sophisticated film to add to this list - but I secretly adored these movies when they first came out. Aside from watching Getaway on TV, these films might have been the first to introduce me to the beauty of Greece and its iconic architecture.
What I'm planning to watch:
I might just watch
Life in Ruins
and
Mamma Mia
, even if they're not exactly the authentic exploration into Greek culture I was hoping for.
These two prove you don't need to speak the same language to be in love.. but, uh, it does make it a tad easier.
Love, Actually.
If you haven't seen the one, you must hate romance or not have a functioning TV. It'll leave you screaming at the television demanding love for all of its characters.
Sliding Doors.
I loved this movie growing up and it still makes me dream of being a successful career woman in London, even if the dream realistically diminishes every year I age.
Other Notables:
Notting Hill
wouldn't go astray for some London sights and who could resist taking a time machine into the past with
Spice World
? That's the Spice Girls official masterpiece, for those unaware. Or heading to the famous Abbey Rd Crossing like I am?
The Magical Mystery Tour
or
Yellow Submarine
movies, starring The Beatles themselves, might inspire you to get a bob cut and rally your musical friends.
None of these titles catching your eye? Are you
craving the semi-racist, outlandish interpretation of Europe?
I'm about to watch the terrible
EuroTrip
, the rom-com
Le Divorce
,
teen movie
Monte Carlo
and some other embarrassing movies just so I can say I can.